The thrust of our activities and projects for our Silver Anniversary is to build on our gains and achievements specifically on maximizing the national reach of our fraternity. Of course, the centerpiece of our 25th anniversary celebration is the the Fraternity Ball which will be open to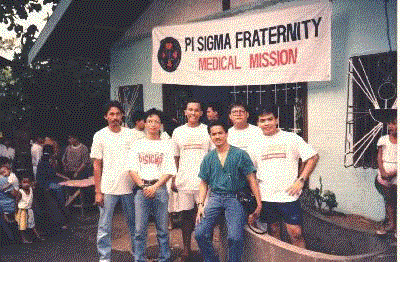 both residents and alumni brods from all over the country and which will be held on August 16. On the same affair, tributes to achiever-brods will also be given.
To kick off our anniversary activities, we have released the first 25th anniversary shirts last January, as well as sponsored one night of the Annual UP Fair last February 13 in UP Diliman with artists like Putriska, Parokya ni Edgar, Razorback, Color IT Redd, Rizal Underground, Isdang Kanal, and Pillbox belting out their popular songs.
Plans are also afoot to come out with a Sigman Handbook, possibly a special issue of the Paragon. to include articles on the fraternity's history, objectives and principles and other relevant information. To do this, it is suggested that a series of discussions to be attended by brods, both residents and alumni, be organized regarding the possible subjects to be included in the handbook. Resource persons will be invited to present a written article or paper regarding his assigned subject and will thus be improved during the discussions. Eventually, the articles and papers will be collated in a special issue of the Paragon.
But the main achievement we could do for this year's anniversary celebration is the publication of the Paragon Network -- our fraternity's national directory. For several years, we have tried to come out with this directory but failed to do so. Partly to blame for this failure is the lack of serious and continuous effort to really gather the names, addresses, and other relevant data as well as the lack of response from the brods themselves to submit the needed information. This time, though, we are dead serious.
For starters, we have targetted at least 1,500 brods to be included in our first national directory. This means that once we have acquired the said number of names, and their corresponding addresses, we will publish the directory. Although we know that our current membership, both residents might reach around 5,000 we believe that 1,500 is a realistic target. At present, we have atleast 400 verified names and addresses of the brods. If you have been receiving the Paragon Newsletter for the last four months, then your name is on that list. If this is the first time you received the Paragon Newsletter which was personally handed to you, then please provide us your name and mailing address thru Dan Calica or Jerry Nalupa at 931-4728; Alvin da Silva at 941-0871; Rod Vejerano at 920-6207; Boyet Ignacio at 125 (Pager ID "WIS") or E-mail it to pisigma@iname.com .
The pertinent data we need are: name, batch, and chapter origin, birth date, birthplace, profession, office address and phone number, and permanent address and phone number. To further help in the publication of the national directory, we urge brods to submit names and contact numbers/addresses for other brods whom you are in contact with. This way we can broaden the network of brods that we can include in the directory. Suggestions as to how we can achieve this task as well as to the format of the national directory will also be most welcome.

25th Anniversary Celebrations Calendar of Activities
---
The10th UP Pi Sigma Fraternity Annual Open Debate Tournament
July 19 - August 5, 1997
Faculty Center Conference Hall
UP Diliman
A decade of tradition. The fraternity's contribution to intellectual discourse in the university. Tackling issues both local and national in scope, the debate tournament remains one of the most awaited events in the university.
Elimination Round:
"Resolved: That the UP Commonwealth Property Be Commercially Developed."
Semi-Finals and Championship Round:
"Resolved: That the Constitutional Term Limits of Nationally Elected Officials Including Members of the House of Representatives Be Lifted."

The Championship Match on August 5 also features a Presidential Candidate Debate with invited guests of prominent "presidentiables".

Grand Tambayan Celebration
August 15,1997
Palma Hall Lobby



The tradional "tambayan" celebration promises "good food and good company" of brothers. There is also a variety show featuring concerts, poetry reading sessions, and comedy shows. Witness also the launching of the Fraternity Directory and the Paragon Network.
Fraternity Anniversary Ball
August 16, 1997 at 7:00 PM
Shangrila Manila, Makati City

Celebrate the Fraternity's Silver Anniversary!
Renew ties, reminisce and have fun.

Contributions of P1,000.00 each will include souvenir items.
---
[More Pictures]





For your feedback, e-mail us at pisigma@iname.com