Profile
It was during the height of the Martial Law era when the Pi Sigma Delta sorority was born. Realizing the need to provide an alternative sorority which would help in addressing the pressing issues of the times and inculcating a higher level of awareness regarding the plight of women, twelve women scholars from the University of the Philippines in Diliman, established the sisterhood - bonded not by a gruelling neophyte process but by a shared vision and common aspiration for the society - one which recognizes the individuality and respective capabilities of each member at the same time.
The Pi Sigma Delta Sorority through the years, has solidified its role as an alternative sisterhood, serving as a beacon for unity and a front in focusing on the socio-political issues of our times. It has demonstrated that the number of years of existence alone should not serve as a yardstick of an organization's accomplishments. The sorority has initiated activities geared towards the upliftment of women's status in society through symposia, trainings, exposure trips, educational discussions, and other projects. It has also engaged in other national and student concerns in its other endeavors.
As the sorority embarks on its 22nd year, it affirms its commitment in upholding its twin principle of service to the masses and paragon of self-development.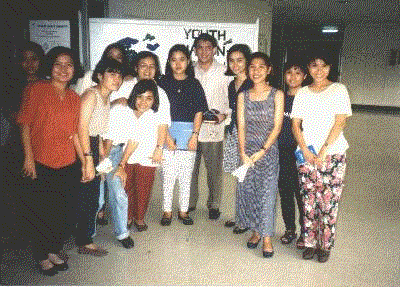 Officers of the Pi Sigma Delta Sorority, UP Diliman Chapter AY 1997-1998
| | |
| --- | --- |
| Lady Excelsius | : Marian Coquia |
| Deputy Lady Excelsius I (Internals) | : Shareen Justine Pabalan |
| Deputy Lady Excelsius II (Externals) | : Aisabai Abdula |
| Deltan Scribe | : Jaimee de la Rosa |
| Deltan Chronicler | : Sandra Guimbatan |
| Deltan Marshall | : Tesa Gaila Medina |
---

For your feedback, e-mail us at pisigma@iname.com